Review: The Challenger Sale: Taking Control of the Customer Conversation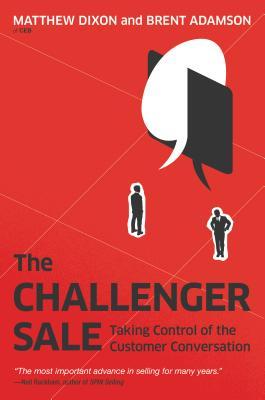 The Challenger Sale: Taking Control of the Customer Conversation by Matthew Dixon
My rating: 5 of 5 stars
I have worked in consulting for a long time and more recently in sales and found this book to be a fascinating (and unique) approach to the sales process. Most vendors come in with a powerpoint presentation, show their customers logos, talk benefits and expect the sale. Dixon and Adamson take a different approach in that one should not try and build relationships with customers but challenge their status quo and approach. I enjoyed this argument and can see in certain scenarios where it would work well but in combination with some traditional sales techniques. I would certainly recommend this book to anyone looking for a different approach to the sales cycle.
Three key takeaways from the book:
1. There are five key sales profile with the "Challenger" role being the most successful in sales conversion based off their data.
2. To be a challenger, one must have a deep understanding of the customer's business and push their thinking along with teaching them during the process.
3. A challenger can be made, not just born.