Review: The Inner Game of Tennis: The Classic Guide to the Mental Side of Peak Performance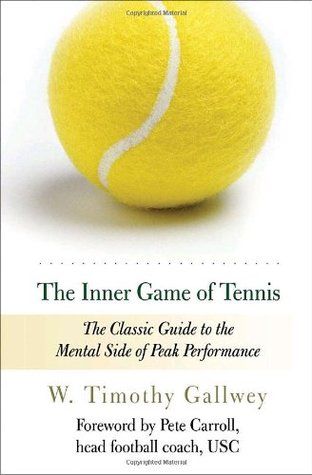 The Inner Game of Tennis: The Classic Guide to the Mental Side of Peak Performance by W. Timothy Gallwey
My rating: 2 of 5 stars
This book is a difficult one to review as I can see the benefits for different readers. For example, those who have come from a tennis background and looking to improve their tennis game. As for me, I wanted to leverage this book for general improvement given tips that have provided tennis athletes with mental and emotional advantages.
With that being said the themes and examples didn't resonate with me. If you're into tennis this this is most likely a good read for you, however, if not then perhaps not.
Three key takeaways from the book:
1. The most common complaint of sportsmen ringing down the corridors of the ages is, "It's not that I don't know what to do, it's that I don't do what I know!"
2. Fighting the mind does not work. What works best is learning to focus it
3. There is no need to fight old habits. Start new ones. It is the resisting of an old habit that puts you in that trench.