Post Corona: From Crisis to Opportunity by Scott Galloway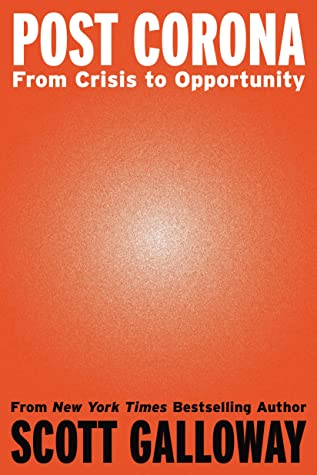 My Rating of "Post Corona: From Crisis to Opportunity" by Scott Galloway: 9 / 10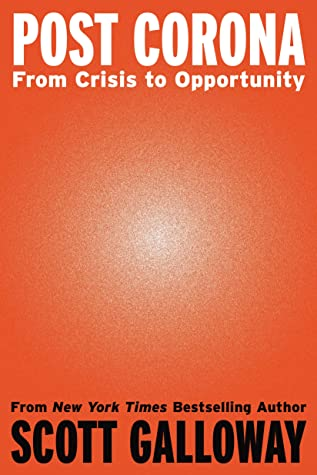 A few years ago I read Scott Galloway's book "The Four" therefore I've had some exposure to Scott Galloway and how he thinks. More recently I've been listening to many of his online videos and in particular the weekly podcast Pivot with Kara Swisher. Full disclosure, I'm planning to enrol in Scott Galloway's SectionFour Strategy course in July. I find Galloway to be strong strategic and fascinating thinker. He also packs quite the personality which puts a smile on my face when I hear him on podcasts. That said, I'm sure others would disagree with me on that latter point.
Post Corona is a timely book and its advice will be perishable as we move beyond the pandemic. At the heart of the book is how business has (and will) evolve given the decimation by Coronavirus. For example, Galloway writes on the hyper acceleration of digital adoption by organisations which has clearly identified new business models. Dispersion is one business model he describes in detail. The idea of dispersion is essentially the skipping of traditional value chain steps and going direct to the consumer (the other traditional model for businesses is vertical integration).
Example of Dispersion (Film Distribution & Healthcare)
Galloway uses the example of the movie Wonder Woman 1984. It bypassed the traditional distribution model of going to a cinema in the USA. Instead the movie was released directly to the streaming community. Galloway's perspective is that dispersion will be important model in business as many industries continue to get disrupted. I can speak about the concept of dispersion based on my personal experience. When I contracted coronavirus while on route to Australia I was quarantined in Sydney. During the 18 day quarantine stay I had a virtual nursing company (RPAVirtual) calling via Zoom to make sure I was tracking in the right direction.
Conclusion
As mentioned above, Post Corona is a very relevant and timely book. It is not timeless. Many of the concepts and models explained will still have a long shelf life in digital business. It was one of my early reads for 2021 and I have already read it twice. It's worth taking the 5ish hours in working through it!
Three key takeaways from the book:
We used to trade time for value. Now we trade our privacy for value.
The pandemic's most enduring impact on business will be an accelerant. It will drive some changes and alter direction of trends. More importantly it will accelerate dynamics already present in society.
Sectors that have raise prices faster than inflation, without an equivalent increase in innovation are those sectors that are more likely to be impacted by disruption. Thinking healthcare (delivery in particular), education and finance (although that changing over the past five years).