Review: The Three Value Conversations: How to Create, Elevate, and Capture Customer Value at Every Stage of the Long-Lead Sale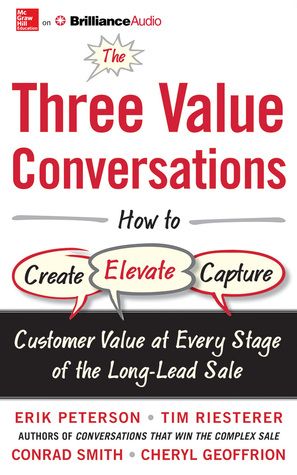 The Three Value Conversations: How to Create, Elevate, and Capture Customer Value at Every Stage of the Long-Lead Sale by Erik Peterson
My rating: 5 of 5 stars
In June of this year I was fortunate to be part of Corporate Visions' "Three Value Conversation" workshop. The presenter from Corporate Visions was Erik Peterson, one of the authors of this book. After the 90 minute presentation I was more than ready to purchase The Three Value Conversations book. The approach, ideas and considerations in the presentation were eye opening, yet the book takes these aspects into a much greater detail coupled with countless visuals and examples.
The premise of the book is to create, elevate and capture value. It delves into many areas in how to achieve this: simply by asking the right questions, presenting differently and/or discovering unconsidered needs thereby gaining more of the customer's attention. It also provides step by step approaches for all concepts outlined.
This would have to be one of the better books I have read this year. For example, I have worked in the sales world for many years and this book has helped me focus on areas to improve and in the process capture more value; for both the customer and the sale.
Three key takeaways from the book:
1. A great conversation is the combinations of having the right message, using the right tools and leveraging the right skills. Sometimes we engage way too fast with the wrong tools at the wrong time with the wrong people. Therefore it is important to sharpen the saw in this area prior to engaging.
2. Whiteboarding is far superior in increasing the attention and retention of your customers versus powerpoint or zen presentations
3. Commoditised conversations should be avoided in a competitive sales cycle