Review: The ONE Thing by Gary Keller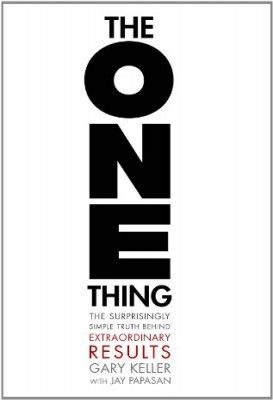 The ONE Thing by Gary Keller
My rating: 4 of 5 stars
The One Thing is the kind of book we all need to read when we lose our focus, want to develop a routine/habit or have a goal we want to achieve in a certain period of time. Keller delves into the history as to why we are unfocused or take on too much, and how we can build a discipline and focus on the one thing that is important to achieve in our lives. There are many strategies and approaches to think about being balanced with examples on how it can work in the real world given distractors such as multi-tasking, email and social media. Ultimately the golden rule is to start small and build from there. Learned a lot from this book.
Three key takeaways from the book:
1. Leverage the domino effect. The key is over time that you can build success sequentially; Just one thing at a time
2. The to do list and the difference between important and urgent. While to-dos serve as a useful collection of our best intentions, they also tyrannize us with trivial, unimportant stuff that we feel obligated to get done— because it's on our list. Said differently, purpose without priority is powerless
3. When you say yes to something, it's imperative that you understand what you're saying no to.