Review: The Miracle Morning for Salespeople by Hal Elrod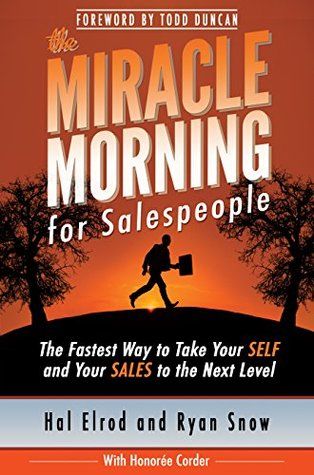 The Miracle Morning for Salespeople: The Fastest Way to Take Your SELF and Your SALES to the Next Level by Hal Elrod
My rating: 3 of 5 stars
At the beginning of 2015 I read The Miracle Morning (Hal's original book). It would have to be one of the most life changing books I have read (5 Stars!). Given the impact of that book I decided to add "The Miracle Morning for Salespeople" to my list; however I didn't get to read it until recently.
I see the Miracle Morning concept as more of a personal routine versus a routine that includes work aspects. The early morning time is my own as I know the rest of the day will be impacted by career commitments. Therefore my Miracle Morning consists of mindfulness, journaling, exercise, reading, visualising etc. The Miracle Morning for Salespeople takes the Miracle Morning template and further refines it for a sales person. Although a lot of the concepts in the book make sense, it didn't resonate as much as the original book.
If you haven't read either book then this one certainly delves into the concepts of how to develop a morning routine that can help you get control of your work priorities along with building a process that will enable you to sell more efficiently and effectively. There are some good tips and ideas that many can take away and apply to your respective careers.
Three key takeaways from the book:
1. Affirmations are powerful. The more you say something the more you will believe it. Building affirmations around who you want to be as a salesperson should be at the heart of your morning routine.
2. If your day includes critical meetings or phone calls, use visualisation techniques to work through them prior so that you're mentally and emotionally prepared. There are visual techniques as part of the S.A.V.E.R.S approach outlined in the book
3. Spend 70% of the time listening and 30% asking question during the sales process. I have seen this approach work over and over again in the enterprise software world. I would say however that there is a little bit more to it than just questions and listening.