Review: The Snowball: Warren Buffett and the Business of Life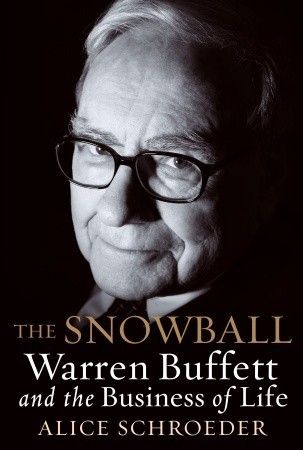 The Snowball: Warren Buffett and the Business of Life by Alice Schroeder
My rating: 4 of 5 stars
The Snowball is a one of those books that details the life of a significant person who has made it in life. Yet although Warren Buffet is one of the world's richest men and has made it in business, Alice Schroeder details a man that deals with people and the world very differently and ultimately is driven by one and only one thing; making money.
This book is very detailed and traverses Buffet's life as a child with a goal to make a million dollars by 35. Most people know him as the 85 year old man we know today that runs Berkshire Hathaway. The book was a little too long and went into areas of his life that were not of interest to me. With that being said, the resounding theme was his laser sharp focus, hard work and endless research that has made him the successful person he is today; even if he hasn't necessarily succeeded as a family man.
Three key takeaways from the book:
1. The consistent theme that focus, effort and determination will get you to where you want to go in life; sometimes with both positive and negative consequences
2. Do not let the stock market ups and downs affect how you invest. Focus on value and long-term investing along with a margin of safety. For example: "In the short run, the market is a voting machine. In the long run, it's a weighing machine."
3. For the life, the money and the fame that Warren Buffet has, he has lived a life of eschewing ostentation. It is and only is about making money.