Review: Rejection Proof by Jia Jiang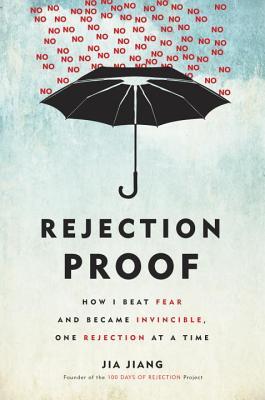 Rejection Proof: 100 Days of Rejection, or How to Ask Anything of Anyone at Anytime by Jia Jiang
My rating: 4 of 5 stars
We all fear rejection in some way shape or form and at some point in our lives. Unfortunately most of us do not conquer this fear of rejection and it manifests in our behaviours and dealings with others. Jia Jiang proposes an alternate approach by taking rejection head on. Through a serious of experiments Jiang overcomes is fear of rejection and lives to tell his story.
What I enjoyed about the book was going through Jiang's various stories and examples and how he matched them to overcoming aspects of rejection. It all stems from our insecurity in feeling like everyone will reject us at some point. Jiang provides a simple solution in that being confident, friendly and open is the beginning. We need to couple this foundation with rethinking the outcome (the upside, the meaning, the freedom or the power or being rejected).
Suffice to say this book is jam packed with many stories and examples through Jiang's journey of becoming rejection proof! Worth checking out as I found it to be a good read.
Three key takeaways from the book:
1. Rejection happens, don't take it personally, be tough and move on. Amazing things happen when you have nothing to lose
2. Most likely the biggest reason people do not talk about rejection is because they find it easier to talk about failure
3. Within our brain, rejection pain equals physical pain. Hence why most people rank rejection so high as a fear