Review: Eleven Rings by Phil Jackon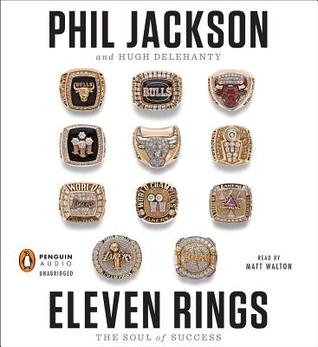 Eleven Rings: The Soul of Success by Phil Jackson
My rating: 5 of 5 stars
Many know Phil Jackson as the successful NBA coach that led the Chicago Bulls and the Los Angeles Lakers to multiple championships as well as taming two of the most successful NBA players in history; namely Michael Jordan and Kobe Bryant. My aim was to get to know more about Phil's philosophy of coaching and the background to the many NBA adventures he has had over the last few decades.
The good thing about this book is that Phil doesn't just talk about his time as a coach and a player. He writes about his leadership style and how he has incorporated Zen and Buddism into his life and his coaching. There are many quotes and principles that he includes in each chapter. For example, he outlines his 10 basic principles of mindful leadership which he has evolved over the years. He states he has been able to transfer disorganised teams with various egos using this very method.
Keep in mind that this book doesn't detail his time as President of Basketball Operations at the New York Knicks. Yet, if you're after a balance between some behind the scene stories, lessons and more about Phil Jackson then this will be an entertaining book to read.
Three key takeaways from the book:
1. Phil rates his coaching seasons: 95/96 Bulls as the most transcendent team, 99/00 Lakers the most talented and the 08/09 Lakers which had the seeds of greatness in their collective DNA.
2. Phil believes the most effective way to deal with anxiety is to be as prepared for what is coming as possible. Agree, I believe it was Charlie Munger that said not to be depressed about the past nor anxious about the future. Make the difference in the present.
3. Jackson writes on the comparison between Michael Jordan and Kobe Bryant. He breaks down various facets such as basketball IQ, strength, shooting style, defense, playing through pain etc. I believe he gives MJ the edge. But then again, would Kobe have become the player he was without Jordan as someone he looked up to and idolised in the early stages of his career?