New Rules for the New Economy by Kevin Kelly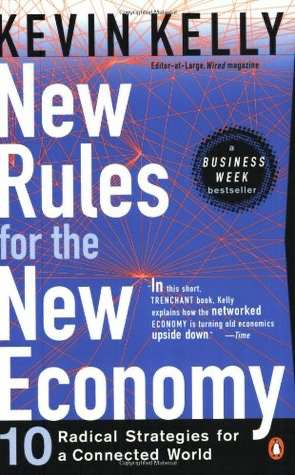 My Rating of "New Rules for the New Economy" by Keivn Kelly: 8 / 10
Ever read a book that was written about the future? One that successfully predicts the key technological facets that will change the world dramatically along with related economic impacts. I felt that way while reading Kevin Kelly's book: The New Rules for the New Economy. It is one of those books I wish I had of read at its release in 1999. I would have invested my time, development and money in a different direction.
Kevin is a key player in the technology industry and certainly has his fingers on the pulse. The premise of the book is consider the new economy rules – plentitude, freemium, relationships, network, opportunities and intangibility. Some of these we all think about however he delves deeper into what it means for our new technological age.
Readers may complain that this book may not be relevant anymore given its age of twenty years. I disagree as one can still get an overview of the present and how it has evolved from the past; there is always something to learn here. Furthermore, there are still some foundations in this book that will to shape and drive our future economy. More importantly, aspects we can all benefit from.
Three key takeaways from the book:
If you want to envision where the future of your industry will be, imagine it as a business built entirely around the soft, even if at this point you see it based in the hard.
Communication — which in the end is what the digital technology and media are all about — is not just a sector of the economy. Communication is the economy.
In the new order, innovation is more important than price because price is a derivative of innovation.