Becoming by Michelle Obama
My Rating of "Becoming" by Michelle Obama: 10 / 10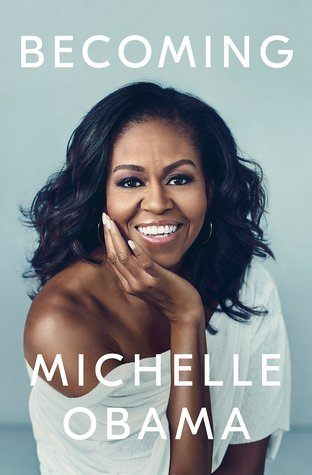 Earlier this year I read Peter Slevin's book on Michelle Obama. This book was published just prior to the end of Barack Obama's presidency and written by a third party. I am intrigued by Michelle Obama as her demeanour, intelligence and dedication to public service is evident. I also felt that she could have easily been overshadowed by Barack, yet has shone in a different and refreshing way highlighting what it means to be a First Lady and public servant.
Becoming was announced around the time I had picked up Peter Slevin's book and I was keen to follow-up on Michelle's account of her life from growing up in Chicago, to meeting and dating Barack and to their journey to the White House. The details are similar however the insight into her family's unity, her closeness and following in the footsteps of her brother were interesting. It never surprises me that an adult person's personality, values, beliefs and behaviours are a product of how they grew up. The Robinson family approach was simple but it was all about being good to one and other and establishing a hard work ethic from a young age.
What I found most interesting was the Michelle's courtship with Barack Obama. She wrote about being his mentor as well as the many political adventures that she wasn't necessarily wanting to take. The most interesting insight for me was the pressure she had on being the First Lady. It was a harder job to handle than any other previous First Lady given that she was black and the wife of a black President. Everything had to be perfect; what she said, how she said it and what was ultimately cut and edited on the nightly news.
The last thing to note was that I listened to the audiobook version. Hearing Michelle tell her stories, recount the various events of her life and bringing such a personal aspect to the book was very special to me. I do not think any narrator could have done it justice. Pick up the book for a read and learn what it takes to be successful and fulfilled; preferably the audiobook version!
Three key takeaways from the book:
Early experiences in your life prepare you for something in the future. They may frustrate you at the time but you then realise years later you can handle the situation in a better way.
A presidency doesn't change who you are, it reveals who you are.
There is no chance in hell Michelle Obama will run for any form of public office. She made it abundantly clear in the book! Such a shame but understandable given her justification.