Thicker Than Water by Tyler Schultz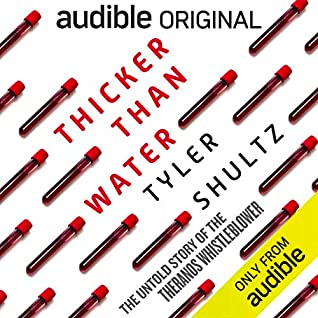 My Rating of "Thicker Than Water" by Tyler Schultz: 7 / 10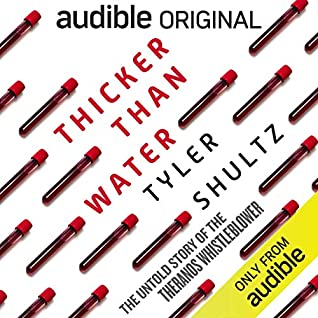 The exposure of Theranos is a great case study for technology start-ups, company culture curation and board of director governance. It's a case study that I keep referring back to. I originally read Bad Blood by Jon Carreyrou in early 2019 (my review is here). Next I watched the HBO Documentary The Inventor: Out for Blood in Silicon Valley. I came across this Audible Original by Tyler Schultz. Tyler is at the heart of the exposure given his role as a whistleblower working with Wall Street Journalist Jon Carreyrou.
Thicker Than Water is an open, transparent and honest narration by Tyler himself. He wanted to tell his own story and provide perspective given the impact Theranos has had both on his working and personal life. For those who don't know, Tyler Schultz is the Grandson of George P. Schultz. Amongst his many accolades, Tyler's Grandfather happened to be the 60th US Secretary of State, 11th US Secretary of Labour and 62th US Secretary of the Treasury. He was also on the Board of Directors for Theranos.
It was clear the book didn't come pre-scripted. Sure, the Q&A aspect was edited before publishing, however, hearing Tyler's nervous laugh or the challenging responses to edited questions makes the book quite real and unique. Many of his responses are centred around the relationship with his Grandfather. Furthermore he discussed the impact of Elizabeth Holmes' reality distortion field on his Grandfather not being able to see through the cracks.
If you have an Audible membership then I believe you can download this for free and listen to it. I am still waiting in anticipation for the Bad Blood movie to be released. Rumours on the Internet state that Jennifer Lawrence will be playing the lead role of Elizabeth Holmes. This book is a good filler while we anticipate the movie release!
Key Takeaways
No key takeaways for this book as I've already listed them in my review of Bad Blood. You can find them here: URL